My Road to Wageningen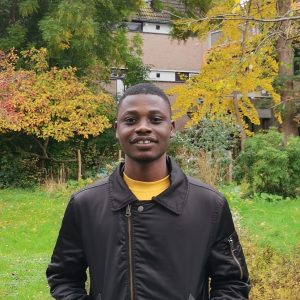 My moments of doubt about "Education is the key to success"…. ?????

My name is Samuel Agyekum, and I hail from Kumasi, one of the largest cities in Ghana. I studied Bachelor of Arts Geography at the University of Education, Winneba. As a young talent born in one of the largest cities in Ghana, my experience with the environment was not blowing things out of proportion, not to expect. Flooding, poor waste management, bad settlement planning, and automobile emissions were common incidents. These terrible experiences gave me every good reason to doubt the famous quotation "Education is the key to success". This is because education had, apparently, failed to export its success into the state of the environment. Those days were not only the disgruntled but hilarious moments of my life too?.
I never felt more the urge to turn into a superman than those days, where I wished I could command to halt all these environmental problems.

Seemed to be on the right road

Well, as a disappointed superman ?, I finally went the realistic way to solve these problems. At High School, I developed a keen interest in Geography, especially human and nature links. Stirred to align the development of cities in Ghana to the sustainability revolution, I continued to study Geography in my first degree. There, I learned that the major obstacle of the drive to sustainability is the one-sided solution to environmental problems that are otherwise socio-technical (natural & social science) in nature. I was even more convinced about my vision to kick against the unsustainable path to economic development in Ghana when I saw the beautiful clean city of Copenhagen during my half a year experience as an exchange student in Denmark. This motivated me to choose a Master's programme that approaches environmental issues from nature and human perspective.

By not giving up on my dream, I decided to study in one of the world's best sustainability-conscious universities with an option to focus on cities. Through my research, I discovered the world's best 'Wageningen University and Research'. I was extremely happy when I found WUR…. Oh, how is that possible? Why didn't I know WUR way earlier, I exclaimed ?. Admittedly, the discovery was heaven to me.
The beautiful scenes on the road

Honestly, there was no reason to delay since I found my dream university. I applied to the prestigious university in November 2019 to pursue MSc Urban Environmental Management… I received a positive response to my application in January 2020.
To my surprise, the Wageningen University Fellowship Programme (WUFP) nominated me for the African Scholarship Programme. I responded to the email and attended a virtual interview. Guess what… I received the most uplifting email of life ?. Not to talk about the fact that I found it so hard to believe that they have awarded me a WUFP/Anne van den Ban scholarship to study Master Science Urban Environmental Management.

A halt on the road???

Heads were not clear about the possibility of International Education because of the peaking of Coronavirus worldwide. However, the pro-activeness of WUR and the plan of the Dutch government to support capacity-building resulted in resilient measures that made it possible for many international students, including myself, to apply for visa and travel. I finally got to the Netherlands (Wageningen) in the first week of September. It was indeed a dream come true.

Finally, at the best destination. Truism established. 

Honestly, it wasn't a mere hype on the internet. Indeed, Wageningen University and Research is the best place not just to learn but to experience sustainability.
This is because we learn sustainability by doing it. By this, I have come to a logical conclusion that education is not just the key to success as I doubted because it is too parochial and self-centred. I rather agree with Nelson Mandela that 'Education is the most powerful weapon' and I am going to use it to make cities in global south sustainable.
A very big thank you to WUR for seeing my capabilities and awarding me the WUFP/Anne van den Ban Fund Scholarship. I hope to see you reading my story in WUR next academic year. I can't sign out without saying "Tot ziens".?