Back to campus after the lockdown
After the lockdown, finally going back to campus feels like a relief to most of us. The isolation has been hard on many students, often causing loneliness and stress. Many new students are now meeting their fellow students for the first time.
Although most of us were probably looking forward to going back to campus, it can also be very overwhelming and maybe a bit scary. That's why this article compiles a list of fun things that you can do again on campus. Hopefully, it will inspire you to look forward to going to campus and making the most out of your time in Wageningen.
Comfortable study places
Everybody has different preferred ways of studying. Some people like to study alone, whereas others prefer studying with friends or fellow students. Some people concentrate better in a quiet environment, where others may feel more comfortable with a more lively soundscape.
Whatever way of studying you prefer, the campus offers something for everyone. For example, you might know the Forum library. It has many comfortable study spots, whether you like to sit at the circular desk in the middle or you like the more secluded study places between the bookshelves.
Additionally, the other buildings also offer many study spaces. Have you ever tried the mobile study spaces of Aurora? This new building has many beautiful study places surrounded by a calm green atmosphere of plants. If you prefer more quiet and individual study spaces, you can make a reservation for study rooms in Forum, Orion, Leeuwenborch or Aurora on TimeEdit. My personal favourite study mode is to reserve a study room in one of the buildings together with my friends. We get some coffee at the canteen, update each other about our day and get to work. In this way, I'm able to socialize and have people to motivate me to study at the same time!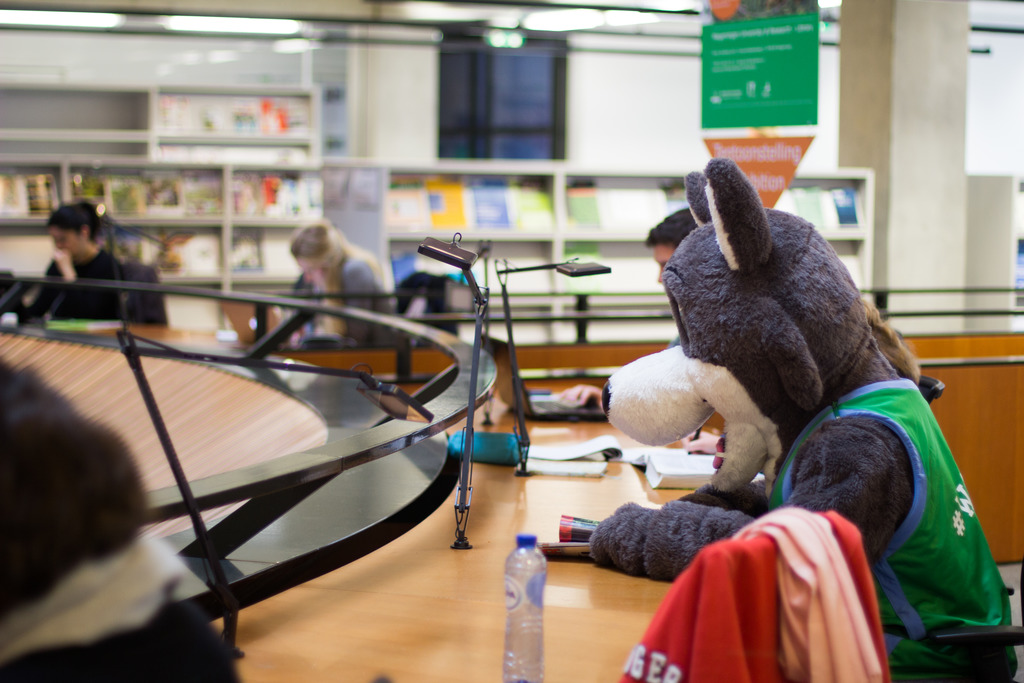 Treat yourself
After being away from campus for a long time, it's time to treat yourself to a delicious lunch on campus. How about doing a restaurant tour of all the buildings?
Let's start at Forum. On the first floor, Forum has a restaurant that sells a wide variety of food. From sandwiches to salads, and from soups to deep-fried snacks. No matter what mood you're in, Forum has got you covered. If you're craving a warm meal, you can visit the restaurant in Orion. It even has a large terrace where you can eat outside on sunny days.
Last but not least, Aurora also offers four pop-up shops that offer internationally oriented and plant-based foods. A fun fact about Aurora's pop-up shops: they are all focused on reducing food waste so you can order without worries. Of course, there are plenty of vegetarian and vegan options at all of the restaurants too.
Join a sport at the Bongerd
Now that the sports centre the Bongerd has opened again, there's no excuse for not exercising anymore! Physical exercise reduces stress, increases physical and mental fitness and makes you feel happy. If that isn't enough, it also contributes to high concentration levels so you will be more effective with your studies. As a bonus, working out together also allows you to socialize and meet fellow students, which we all need after the lockdown!
Considering the diversity of available sports, you will never run out of options. Whether you prefer more conventional sports like fitness and tennis or like to switch it up with unusual sports like quidditch and fencing, there's always something to enjoy.
Join activities from student associations
Now that social activities are slowly becoming possible again, student associations are starting to organise fun activities. These activities are a great way to meet fellow students or have a fun evening with friends. There are many different student associations in Wageningen. For example, you become a member of the study association of your specific study.
However, if you also want to meet students from other disciplines you could also join activities from ISOW, the international student association. It hosts fun and educational activities, ranging from an Indian Specialty Coffee Tasting to excursions to other countries. They also organise interesting courses like language- or dance courses. Although ISOW is the international student association, it's open to all students and you don't have to be a member.