Introducing the 2022-2023 International Student Team
Hi! I'm Kiara (I also go by Kiwi) and I am one of the new bloggers from this year's international student team! In this blog post, I will be introducing you to the 4 new faces of our team.
I believe that your preference for dogs or cats says a lot about who you are as a person. Now, I'm not going to psychoanalyze my new colleagues based on their preferences, but I will disclose this very important piece of information here.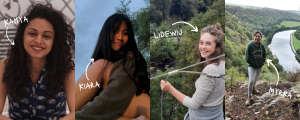 Kamya – dolphin person
Currently studying a Master's in Environmental Sciences, Kamya was born and raised in India. Like you, she was once a confused student scrapping for all the information she could get her hands on about studying in Wageningen as an international. Thus, this experience inspired her to join the team so that she may help some confused upcoming students find their way to study in Wageningen.
Kamya also believes in a healthy balance of work and play. She takes an interest in local events, movies and music and likes sharing them with people. Currently she's even learning to play the keyboard.
Kiara – cat person
The person writing this blog. I come from Jakarta, Indonesia and am currently in the 3rd year of my bachelor's studying Food Technology. Coming from a bustling city of 11 million people, I really didn't expect that a city with no McDonalds would end up growing so much on me.
So far, this city has not only broaden my horizons in terms of the knowledge I obtained from my formal education as it also allowed me to explore my passions in writing, hence why I took on this job, and music, learning from some of the coolest people in the world, who, believe it or not, also study in this little town.
Lidewij – "dog person. 100%"
Also studying Food Technology, we have Lidewij. Currently in her second year in Wageningen, she was born and raised in South Africa. Up until high school, Lidewij lived in a big city, where she then moved to a farm. Although she admits that she came to the city due to its high ranking (which I understand because I did so too), she grew quite fond of the beautiful campus and the city's inhabitants.
Outside of her university obligations, she loves to spend time with friends at her student association, going for a walk, to the gym, spending time with her boyfriend and housemates, working and sometimes even just staying in. She is also very fond of her two goldfish and her new glitter shoes with pompoms.
Myrka – cat person but would love to pet a crocodile
Coming all the way from Mexico, Myrka is now studying her master's in Environmental Sciences in one of her dream universities since high school (in case you haven't gotten the memo, it's WUR). She also has a background in biotechnology and has had work experience in academia, government and as an independent environmental consultant.
She is commendably passionate about the environment and even took part in making a policy brief to the UN as part of the SDD 2022 cohort. This was, according to her, "sweat and tears, but totally worth it." Other than her deep running love for the environment, she also loves to socialize with her friends and spend time with her two cats.
Final  Word
This sums it up for this year's bloggers. We are super excited to write some interesting content for you that we hope will be of some help and entertainment and if you ever bump into one of us on campus feel free to say hi!