Studying in English as a non-native speaker
Have you ever had to speak in another language all day long and at the end of the day you end up exhausted from having to translate your thoughts? Well, I have! It happened to me at the beginning of my Master's programme. And I think this is very common among students studying in English as non-native speakers.
The international education programmes at Wageningen University are taught in English. Therefore, the university requires you to have a minimum B2 level in English to make sure that you will be able to understand the content of the courses, and that you will be able to express yourself in English.
I have to be very honest, although I struggled at the very beginning, I easily adapted to studying in English as a non-native speaker because I had a bilingual education growing up. However, I know many students do not have the opportunities that I had. So, I asked two of my classmates to tell me about their experiences.
Pacôme is from France and is currently studying his second year of the Master's in Climate Studies.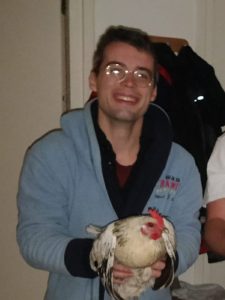 Susana is from Mexico (my paisana) and is studying her second year of the Master's in Environmental Sciences at Wageningen University.
https://weblog.wur.eu/a-short-essay-on-science-and-technology/
I asked them three questions, and these are their answers:
Question 1: Did you find it difficult to study at the level of English that is required by WUR?
Pacôme: I personally wouldn't say studying in English here was a very difficult experience. Well, to be honest, in the first few months it was very tiring to think in English every single day all the time, but I got used to it after a bit and I can tell my ability to speak English clearly improved since!  But those language requirements are not always fair: I already had another experience studying in English before, and it most definitely helped. For some friends who didn't have this opportunity, however, it was a bigger challenge and they had to work much more in the first periods.
Susana: I started learning English as an adult, so it was challenging to be confident in speaking English. Initially, it was scary to give an opinion in the classroom. So, my experience in the NL started to be challenging, but over time I became more confident. Something that helped was the group work sessions because I noticed that I was not shy to share my opinion with a few people.
Question 2: What was the most challenging part of studying in English as a non-native speaker?
Pacôme: For me, the most challenging part was (and probably still is) essays and academic writing: it's one thing to understand texts written in this strange language, but it's something else to be able to write them. I first had to use a dictionary a lot, but most importantly deconstruct so much I learnt about academic writing in my studies back home: my love-hate relationship with the french 'dissertation' ended here in Waga, and for the better.
Another language/cultural challenge I faced: was writing emails to professors. Thank God, there is no need for any useless formalities here and we can talk to teachers as we would do to any other normal human being. But I didn't know that at first and since I have no clue how to write a formal email in English, I caused myself a lot of stress trying to write those emails.
Susana: In my case, the most challenging part for me is the speaking part. It is usual to have debates during class. At the beginning of my studies, it was frustrating not to be confident to give my opinion or to don't find a way to express myself as I could in my native language. But at the end of the day, there is always a way to express yourself.
Question 3: Do you have advice or tips that would help the new non-native English speaker students?
Pacôme: My pro tip would be: spare yourself the "or" and just be nice.
Susana: I think my advice is to be brave and face our weaknesses by practising. Wageningen provides an excellent education. And different resources to improve. Most of the lectures are recorded, so in case we do not catch something, there is an alternative to take a look at it. As well, there is a Writing Lab that supports students on their academic assignments, and the confidence to speak comes naturally.
As you can tell, as non-native speakers, we all have struggles at the beginning. It is true, after all, that it is a challenging task. But, as time passes by, you get more confident in yourself and feel supported by other students to speak your mind in this language. Believe me, your English does not have to be perfect to start your education abroad. You do get better in time and if you want to take the matter into your own hands, there are tools available as Susana mentioned. Personally, I struggle with academic writing just like Pacôme and have used the tool https://weblog.wur.eu/extended-definition-essay-examples/ to review my essays.
I hope our experiences help you understand what it is like to study as a non-native speaker and encourage you to start your Master's admissions process as soon as possible!