Why You Should Visit an On-Campus Open Day
Are you a prospective WUR student? If you are, I'm guessing you are curious about the campus, the student life, your day-to-day studies and everything in between. You've also probably checked out some versions of an online open day and although they are very informative and a great option if physically getting to the university for a visit is off-limits, I believe that checking out the campus in person will help you tremendously. In this post, I will attempt to convince you to stop by our campus for our next open day.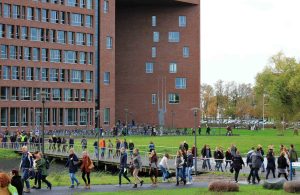 Get a feel of our campus
For starters, attending an open day in person gives you a real feel for the university's culture and atmosphere. Looking at the university from behind a screen will only give you a filtered view of the university and the city. Being here, you can stroll around the campus, smell the air (it has a very distinct smell in my head), and soak up the vibe. You can also chat with current students and staff, learn about their experiences, and get a better sense of what life is like on campus. Plus, you might even make some new friends!
Check out the facilities
You can also see the facilities the campus has to offer. While virtual tours may provide a general overview of the facilities, it's not the same as being able to physically explore them. For example, a prospective student who is interested in the university's sports facilities may want to see them in person to get a better understanding of exactly what's available. Additionally, attending an open day in person provides prospective students with the opportunity to see the university's libraries, study spaces, and other resources that may be important to them during their studies.
Ask your questions
Attending an open day in person gives you the chance to ask all the burning questions on your mind and receive immediate answers. No more sitting on your hands waiting for days for a response to that email of yours that you sent the university ages ago. Trust me, I've been there too. Whether you want to know more about the honours program, study abroad programs or the best place to grab a bite on campus, you can get the inside scoop from faculty, staff, and current students.
Check out our extracurriculars
During our on campus open days, many of the associations are also present. They're there for your enquiries regarding the extracurricular activities that goes on in Wageningen University. Along with them, the housing companies also usually makes an appearance during the open day. You can ask them the details about fixing yourself a room in the city.
See if you fit right in
Attending an open day in person also helps you envision yourself as part of the university community. It'll help you figure out whether or not the university is the right fit for you and solidify your decision to attend. Many people have their doubts and concerns regarding living here since it is quite a small town but maybe after experiencing the atmosphere, you might just love it.
So, there you have it! While virtual open days are convenient for those who may not be able to make it all the way to Wageningen, attending an open day in person is an experience you don't want to miss out on. You'll get a real feel for the university, have your questions answered, explore the facilities, make connections, and envision yourself as a student. What more could you ask for?
I hope by now I have managed to convince you to pay us a visit. To sign up for the nearest open days, you can follow the links I have put below:
Bachelor's Open Day – WUR  (March 18 2023)
Master's Open Day – WUR (March 16 2023)
See you there!