Cost of living as a student in Wageningen
Before I moved to the Netherlands to come and do my bachelors in Wageningen, my dad asked me to make a detailed budget of what my new life is going to cost. To be honest, I was at a loss for the most part, and I needed to do a lot of research to give a somewhat decent budget to my dad. So, in this blog, I will try and give a breakdown of what the general student's monthly expenses are.
The overview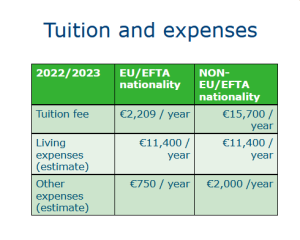 Here the university gives a broad estimate of what you should look at when thinking budget-wise. Please see the end of the blog for a detailed budget overview per month (based on estimates made in this blog)
Tuition fees (based on 2022-2023)
If you are an EU student, and you haven't studied in the Netherlands before, your first year will cost 1105 euros, meaning around 92 euros per month.
In your second year ( or if you have already studied in the Netherlands) your tuition fee will be 2209 euros per year, meaning around 184 euros per month.
If you are a non-EU student, your first year will cost 15 700 euros, meaning around 1 308 euros per month.
The mentioned fees are for bachelor students – keep in mind that masters tuition fees are different.
You can check the tuition fees and estimated fees for 2023-2024 here.
Books/ study material
Most study materials are online or you can borrow books from previous students, however, if you do need to buy books, this can cost around 60-100 euros per period. If you spread this over 2 months, it'll give you 30-50 euros per month. I want to highlight that this isn't always the case. I haven't met many students who always buy new books for these prices – as it is quite easy to borrow or buy second-hand from another student.
Living expenses
Rent
This varies a lot- depending on where you live, facilities, furnishing, amount of housemates, agency etc. However you can bargain at around 300- 500 euros per month for rent.
This can of course be higher if you decide to rent through a private housing agency and don't have shared facilities.
Not sure about how to go around finding a room in Wageningen? Read this https://weblog.wur.eu/cheap-college-research-papers/ explaining all the housing options.
Health insurance
In the Netherlands, having health insurance is mandatory, even if you aren't a citizen here.
Depending on your package and health care needs, your monthly fee will vary, but most students in the Netherlands pay around 120 euros per month.
* it may be possible for you to get a monthly allowance from the Dutch government for health care. This can be anywhere between 100-150 euros. For more information on this, you can read this article.
Food
You can expect to pay anywhere between 130-200 euros per month for food.
This, of course, depends on multiple factors. How much do you cook at home, are you someone who shops for bargains (buying vegetables at the market in Wageningen is cheaper), do you cook with others, how much do you go eating out etc.
Real-life example: I spent about 140 euros on food last month – most evenings I cook with my housemates and we all split the costs, I went out for coffee at cafés, and I usually have lunch with some bread, spreads and fruit (the dutch way), and I bought ready-made meals a few times etc. You get the idea.
Transport
In Wageningen, it is easy to get around by bike, but you can also go by bus. For example, if you want to go from the center of Wageningen to the university, a single trip is about 2 euros.
From Wageningen center to Ede-Wageningen (the closest train station) is around 3/4 euros for a single trip. From there on you can go by train to other cities.
Some students travel a lot by public transport and can pay quite a lot for this, say around 100 euros, however, others travel very little this way, and have almost no costs regarding this.
Clothing, toiletries etc
This is really hard to generalize for all students! For last month I spent 40 euros on toiletries whereas my boyfriend maybe spends 6 euros every 3 months. The same idea goes for clothing.
Here you are the best judge of how much you will spend. But for sake of simplicity, I will say 50 euros.
Activities
With what do you fill your weekends and free time? City trip? Going to the theatre with friends? Sports membership? Student association fees? Again only you can be the judge of this, but for example, I paid around 200 euros last month for this – I paid association fees, celebrated 'carnival' (an event in the line of a festival), paid gym membership, did a couple of fun activities etc.
Other expenses and thighs to think of…
Your internet and phone subscriptions, other media subscriptions etc.
Travel costs when going back home.
Initial start-up costs (visa costs, furniture, a bike, appliances, registration costs)
Holiday travels.
The grand total
Here I made an overview of what you can expect to pay per month based on the expenses mentioned above (paying first-year fees for bachelors):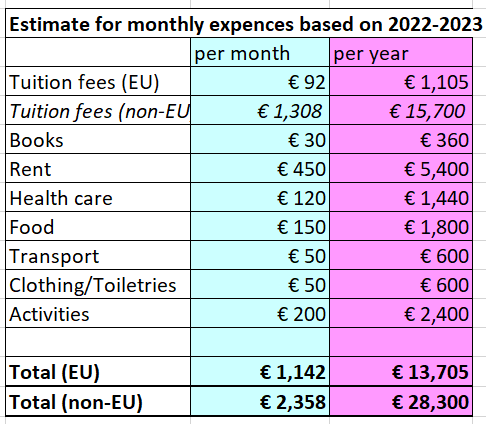 Please keep in mind that this is only a general idea of what your expenses can look like. It is definitely possible to live a lot cheaper or more expensive per month, based on your own preferences.
I hope that this information gives you somewhat of an idea of what you can expect money-wise in your upcoming student life 🙂