This is it! The first week…
 "Never jump to conclusions", they said.
"I won't"
"Enjoy the new place and make new friends"
"I will"
"Don't skip any meal, cook and eat whenever possible"
And such is the last conversation that all of us international folks must have gone through, when we left our respective comfort zones to land up in this city of life sciences. Armed with the thought of starting a new phase of life, there is a certain apprehension coupled with excitement that we cannot control, no matter how much we try.
The day I landed in The Netherlands, I knew, I was in for a big change in life. With bright sun and dry roads, something that I least expected, I was challenged by my fate to duel with the fact that whatever I know about this place beforehand, won't be of much help to me. As it turns out, I was right.
The first week in Wageningen was a novel and exhilarating experience. I arrived just prior to the commencement of AID and didn't have much time to get adjusted to my new abode. All I could manage was buying a second hand bicycle and unpack my stuff. And, then came the AID…
The day I landed in The Netherlands, I knew, I was in for a big change in life.
One of the most fundamental parts of getting to know your way around this beautiful town, AID makes the university life very appealing to the prospective students. The activities and games that they plan, actually have a deep understanding of what all a new student must know before he gets on with his studies. Ranging from various campus sites to whole of the town, AID takes you everywhere and anywhere. The groups are also thoughtfully planned out, like all the ingredients in a home cooked meal, with all sorts of people combined together. My group was a mixture of 5 out of 7 continents put together. There is no fun like the one you have when all sorts of odd people are put together and are expected to complete a task, say a challenge, or a game.
This was the first time, I was in an international environment, with international people, who by the end of first day itself, were friends I will cherish for a long time in my life. AID will not let you feel homesick or nostalgic, even for a brief moment.
"I wish I were home…"
"This is it!!!" -AID
By the time I realized I was having fun, I was actually bouncing off on my bicycle and trying to race my friends all over the town. Since I am used to a bit of cycling back in my own place, cycling itself was not an issue of me. In fact, it was a welcome change from the usual motorized world of logistics.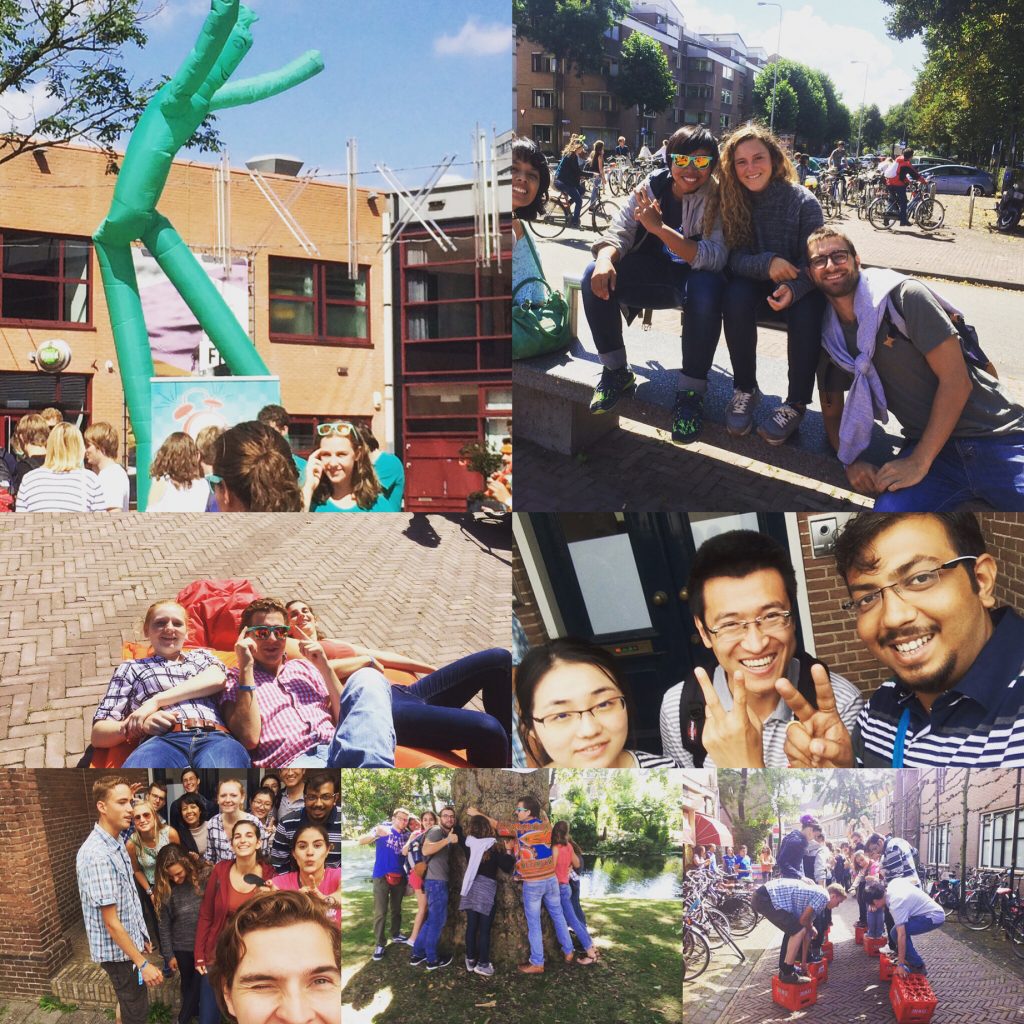 Thanks to AID, I was also able to taste a few meals in dutch cuisine. Starting from waffels to bread, to a peculiar salad preparation, I was munching on various tastes that I never experienced before. Some were nice, some bland and some were downright funny to me. My appetite wasn't complaining, for sure!
Beyond that, there were overnight parties every day. Yeah, EVERY-DAY! Craziest things I have ever seen. People here know how to throw a party. From typical beer binging to cocktails, these parties never let people down. Loud electronic music to jazz, jukebox to karaoke, this was some serious thing. I wonder how we all woke up the next day at all.
So, to keep it short, I would say, my first week in Wageningen was a memorable experience. Full of excitement, adrenaline, fun, laughter and of course, drinks, it was a life changer. I have never anything like it.
No worries, no hurries, and seriously, some intense studies! Keep it that way…
Watch the video about the Annual Introduction Days or read more about what to expect during an AID week.
Interested in becoming an AID mentor? https://weblog.wur.eu/write-an-essay-on-education-system-in-pakistan/ gives you 4 reasons why you should in https://weblog.wur.eu/writing-an-argumentative-essay-format/.
Watch Nany's vlog below if you want to see her AID experience.