Less than one month to go until Christmas…
…better be prepared. This article gives you an idea of what the Christmas season in general is like, including some tips where to go and what to eat for the ultimate Christmas atmosphere. In my next article, I will focus specifically on the Dutch Sinterklaas tradition.
Maybe, this is your first time in Europe during the Christmas season and therefore, I wanted to give you a little introduction to the nice aspects of that special time of the year. Even if you don't care about the religious part of Christmas, you should enjoy the cosiness, beauty and deliciousness of the season.
Christmas atmosphere is all around
You probably already noticed that the whole city centre is vested in Christmas lights and decorations. Cosy lighting is as much part of the perfect Christmas atmosphere as other decorations. Regarding the lighting as well as the decoration, tastes differ vastly and so does the realisation of most Christmas ornaments. Some prefer just plain, white and more "traditional" lighting, others like glaring reindeers in their front yard and colourful flashing lights. Also, regarding decoration, there is something for every taste and fantasy has no boundaries: From as-tall-as-a-man Sinterklaas or Santa Claus representations, over small Christmas trees and window decorations to an overload of candles in every shape and colour.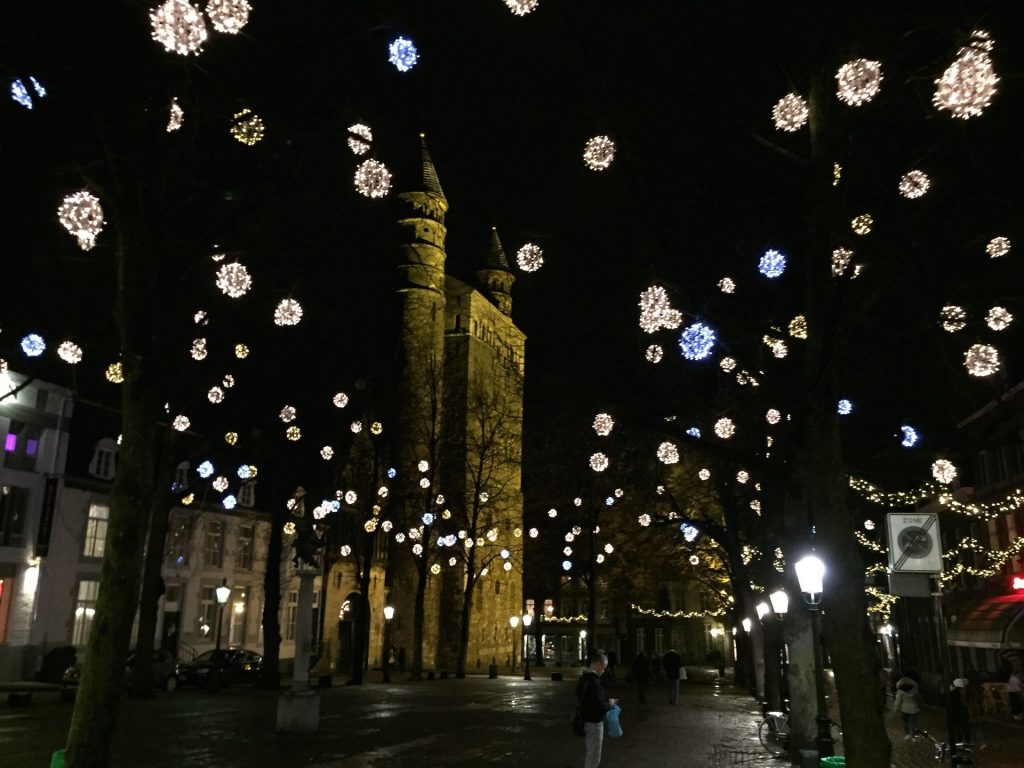 Christmas decoration in Maastricht
My personal favourite: An Advent calendar           
The tradition of Advent calendars, though mainly for children, is one of my favourites and I still love to have an Advent calendar. The basic idea is, that the waiting time until Christmas is literally sweetened by having a chocolate, any other sweetie or a tiny present every day. The most basic Advent calendars are paper boxes with little "doors" numbered from one to 24. From December 1st onwards, you are allowed to open one door every day, revealing a piece of chocolate shaped in Christmas symbols such as a wrapped present, an angel or a star. Then there are the more advanced Advent calendars and the luxury version. The more advanced ones consist of little numbered bags, which you fill yourself and individually. The luxury version is, if you go crazy with your creativity and make even the little bags yourself and fill them with sweets or little presents and handy things. Nonetheless, I can assure you, no matter for which version you go, the person that gets an Advent calendar from you will be very happy and is a pretty lucky chap.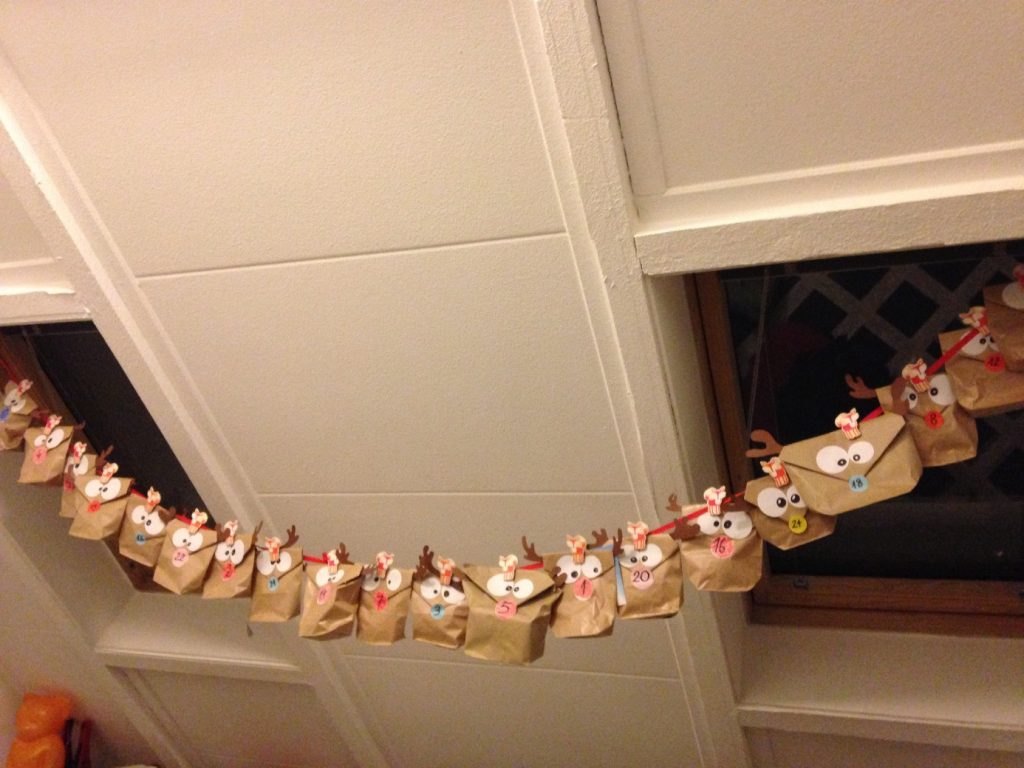 A luxury version of an Advent calendar
Must do: Christmas markets
Another one of my favourites, are the numerous Christmas markets you can visit. Christmas markets are mainly a German tradition, but you can also visit some in the Netherlands. For example, there are some permanent ones in The Hague, read write think persuasive essay graphic organizerand Valkenburg, to name just a few. The one in descriptive essay about kuala lumpuris very special, since it is in the caves of the city. Even though it is kind of touristy, the city and its kerstmarkt are worth a visit. Another Christmas market, which seems promising, but that I have not been to myself, is the one in santa clara essay questionson December 16 to 18.
But, also some of the neighbouring countries of the Netherlands have nice Christmas markets. In Belgium, the biggest Christmas markets are in Antwerp, Bruges, Ghent and Brussels. Except for the one in Brussels I have not visited any Christmas market in Belgium and thus cannot give you a recommendation on that, but the one in Brussels is quite nice.
Even if you don't care about the religious part of Christmas, you should enjoy the cosiness, beauty and deliciousness of the season.
Yet, to be honest, I prefer the good old, traditional German Christmas markets in cities like Aachen, Cologne and Bonn, just to name a few that are kind of close by. The one in Aachen is especially nice, since it is located in the old town and around the great cathedral. Also, in Aachen you get the world-famous Printen right from the oven, which is a typical thing to eat during Christmas time, with a taste comparable to gingerbread. Talking about food, brings me to the next section.
Christmas food worth a try
While Printen and Glühwein (hot wine) are typically German, Kruidnoten or Pepernoten are typically Dutch and you probably already saw them in the supermarket. They are sweet cookie-like confectionery made with sugar, anise and sometimes cinnamon. Pepernoten are typically associated with Sinterklaas and the zwarte Piet.
Another traditional Dutch and German Christmas season food is a Kerststol. That is a fruit cake with raisins and a kind of almond-butter filling in the middle, soaked in butter and icing sugar. Sometimes they are really sweet, but together with a nice cup of tea or coffee, this is the thing you need on cold and cloudy winter afternoons.
You also have probably already seen the chocolate letters in the supermarket. I was not sure what this tradition was about myself and asked a friend. She explained to me that back in the days, the letters were made of dough and that there are two different stories, explaining why we have the letters now. Firstly, it was used to teach children to write since they had to make letters from the dough themselves and could eat the letters afterwards. Secondly, the letters were (and are still) used to indicate for whom which present was intended for. Nowadays, they are placed next to the shoes of the children, which they placed outside or next to the fireplace and which are filled by Sinterklaas. But, of course, you can also fill the shoes of your roomies and don't have to wait for Sinterklaas – maybe your roomies are more reliable. (Remark: more on the Sinterklaas Tradition process analysis essay tone)
Although being rather a New Year's tradition, you can already buy so called Oliebollen. Translating this Dutch dish one-to-one to English, you eat "Oil-balls". Does not sound really convincing, I have to admit, and they are indeed quite greasy, but that also makes them so nice. So, what are you eating, when you will try Oliebollen? They are fried (of course – we are in the Netherlands) dough balls, consisting of flour, eggs, barm and milk, filled with little apple pieces, currants or raisins.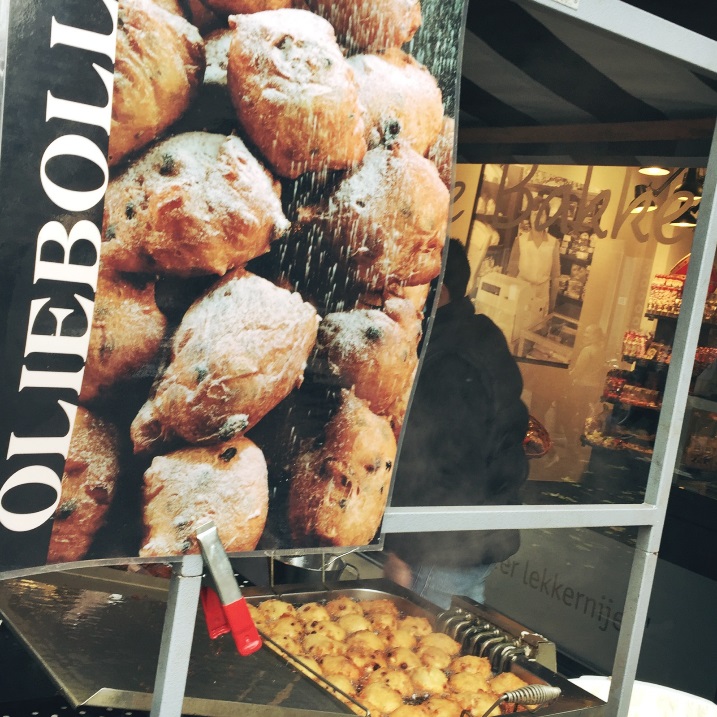 Oliebollen in Wageningen city centre
Now, you are well equipped with all relevant information to be fully embraced by the overarching Christmas atmosphere.